IEEE CloudCom 2016 Program - Wednesday, Dec. 14th
The preliminary program for Wednesday, Dec. 14th, 2016, is proposed below.
Wednesday, Dec 14th, 2016 Program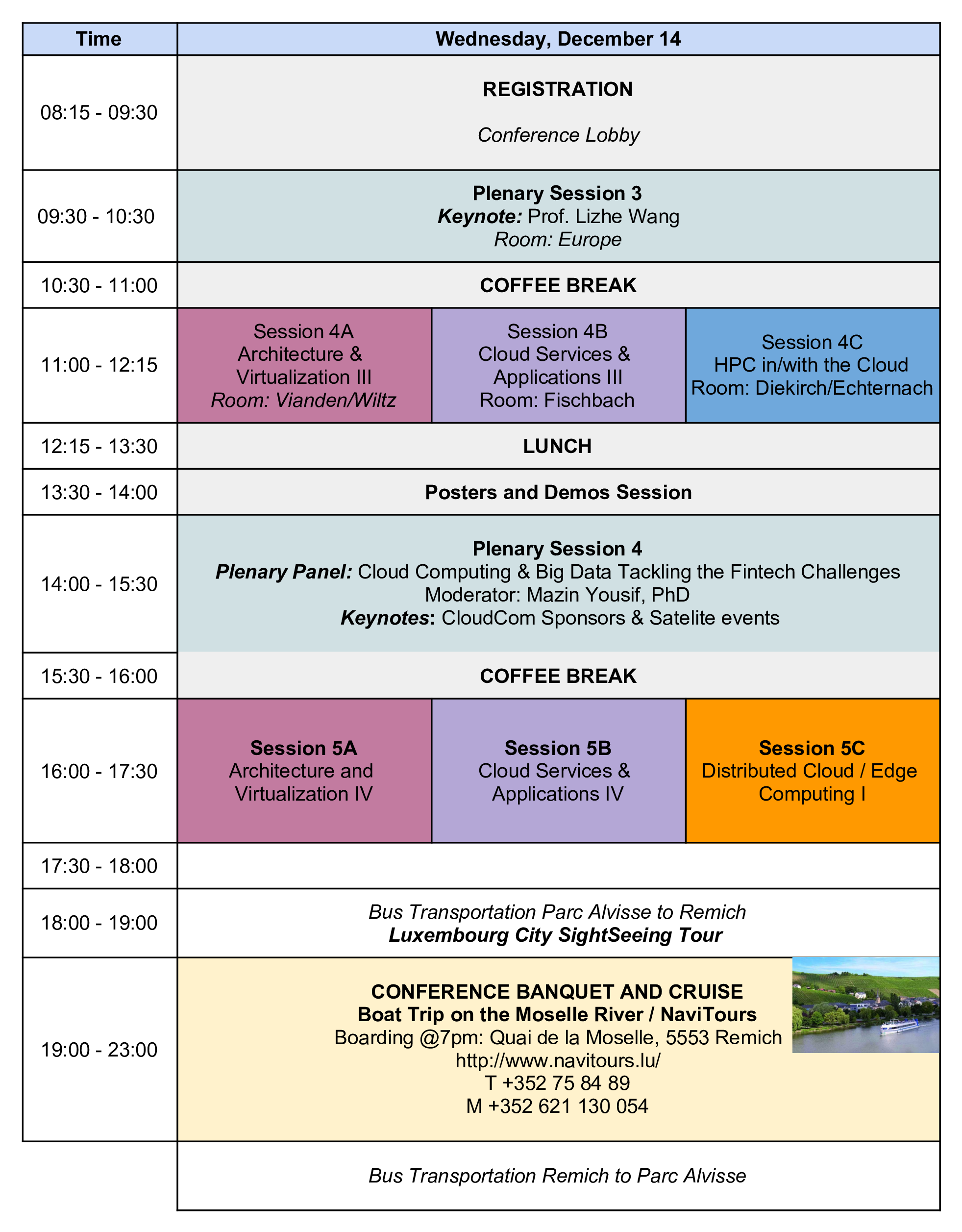 Wednesday, December 14th, 2016 | 11:00am - 12:15pm
Session 4A: Architecture and Virtualization III
Room: Vianden/Wiltz, Chair: Thomas Hacker
Paper

46


Optimizing Virtual Machine Consolidation in Virtualized Datacenters Using Resource Sensitivity
by: Robayet Nasim, Javid Taheri and Andreas Kassler.
Paper

37


Location Based Cloud Resource Management for Analyzing Real-Time Video from Globally Distributed Network Cameras
by: Anup Mohan, Ahmed Kaseb, Yung-Hsiang Lu and Thomas Hacker.
Paper

34


A Configurable Energy Aware Resource Management Technique for Optimization of Performance and Energy Consumption on Clouds
by: Adam Gregory and Shikharesh Majumdar.
Session 4B: Cloud Services and Applications III
Room: Fischbach, Chair: Chunming Rong
Paper

101


CloudFC: Files Clustering For Storage Space Optimization in Clouds
by: Haythem Yahyaoui and Samir Moalla.
Paper

191


Generalized Inter-Cloud Structured Data Sharing
by: Malek Athamnah and Krishna Kant.
Paper

26


Proactive Data Placement for Surveillance Video Processing in Heterogeneous Cluster
by: Haitao Zhang, Bin Xu, Jin Yan, Lujie Liu and Huadong Ma.
Session 4C: HPC in/with the Cloud
Room: Diekirch/Echternach, Chair: Sebastien Varrette
Paper

199


Game Theory-Based Nonlinear Bandwidth Pricing for Congestion Control in Cloud Networks
by: Abouzar Ghavami, Zhuozhao Li and Haiying Shen.
Paper

190


Metaheuristic approaches to multiobjective job scheduling in cloud computing systems
by: Jakub Gasior and Franciszek Seredynski.
Paper

86


Towards a Cloud Based Decision Support System for Solarmap generation
by: Nabil Abdennadher.
Wednesday, December 14th, 2016 | 16:00 - 17:15pm
Session 5A: Architecture and Virtualization IV
Room: Vianden/Wiltz, Chair: Rafael Mayo-Garcia
Paper

12


HARENS: Hardware Accelerated Redundancy Elimination in Network Systems
by: Kelu Diao, Ioannis Papapanagiotou and Thomas Hacker.
Paper

3


A Fresh Perspective on Total Cost of Ownership Models for Flash Storage in Datacenters
by: Zhengyu Yang, Manu Awasthi, Mrinmoy Ghosh and Ningfang Mi.
Paper

92


Dynamic Block Partitioning Strategy for Cloud-backed File Systems
by: Lung Hsiang Chung and Jerry Chou.
Session 5B: Cloud Services and Applications IV
Room: Fischbach, Chair: Kittichai Lavangnananda
Paper

111


Efficiency Analysis of Provisioning Microservices
by: Hamzeh Khazaei, Cornel Barna, Nasim Beigi-Mohammadi and Marin Litoiu.
Paper

167


Dynamic Deployment of Scientific Workflows in the Cloud using Container Virtualization
by: Rawaa Qasha, Jacek Cala and Paul Watson.
Paper

168


Defining an Ontological Framework for Modelling Policies in Cloud Environments
by: Simeon Veloudis and Iraklis Paraskakis.
Session 5C: Distributed Cloud / Cloud Brokering / Edge Computing I
Room: Diekirch/Echternach, Chair: Andrei Tchernykh
Paper

85


A Hybrid Deduplication for Secure and Efficient Data Outsourcing in Fog Computing
by: Dongyoung Koo, Youngjoo Shin, Joobeom Yun and Junbeom Hur.
Paper

61


Performance Analysis of Object Store Systems in a Fog/Edge Computing Infrastructures
by: Bastien Confais, Adrien Lebre and Benoît Parrein.
Paper

89


DRASH: A Data Replication-Aware Scheduler in Geo-distributed Data Centers
by: Moise Wendkuuni Convolbo, Jerry Chou and Yeh-Ching Chung.