IEEE CloudCom 2016 Program - Thursday, Dec. 15th
The preliminary program for Thursday, Dec. 15th, 2016, is proposed below.
Thursday, Dec 15th, 2016 Program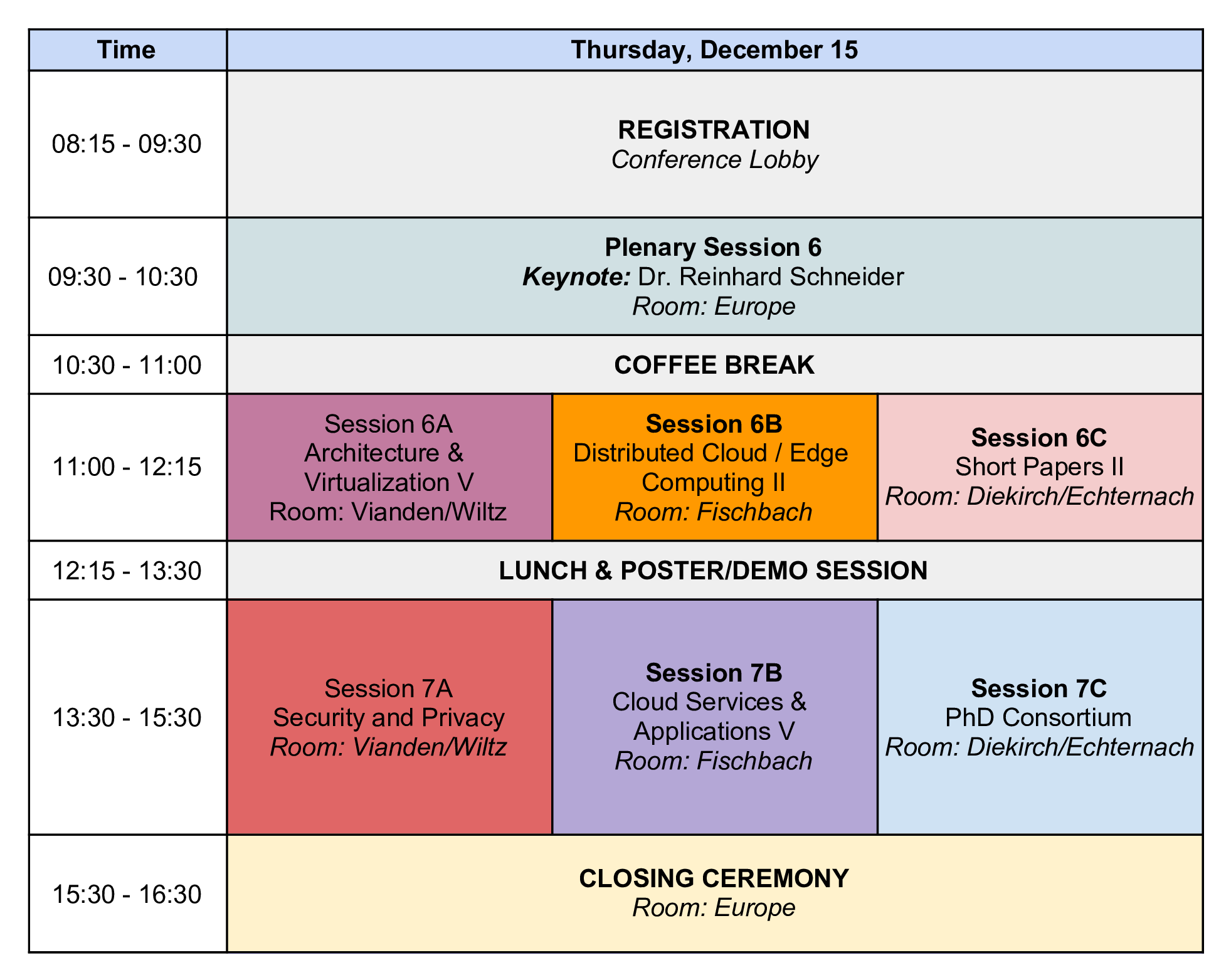 Thursday is the last day of the main conference.
Thursday, December 15th, 2016 | 11:00am - 12:15pm
Session 6A: Architecture and Virtualization V
Room: Vianden/Wiltz, Chair: Sergey Gorinsky
Paper

209


Impact of HPC Cloud Networking Technologies on Accelerating Hadoop RPC and Hbase
by: Xiaoyi Lu, Dipti Shankar, Shashank Gugnani, Hari Subramoni and Dhabaleswar Panda.
Paper

125


Seamless and Secure Application Consolidation for Optimizing Instance Deployment in Clouds
by: Kenichi Kourai and Kouta Sannomiya.
Paper

11


Predictive Model for Dynamically Provisioning Resources in Multi-Tier Web Applications
by: Saurav Nanda, Thomas J Hacker and Yung-Hsiang Lu..
Session 6B: Distributed Cloud / Cloud Brokering / Edge Computing II
Room: Fischbach, Chair: Adrien Lebre
Paper

133


Animation Rendering on Multimedia Fog Computing Platforms
by: Hua-Jun Hong, Jo-Chi Chuang and Cheng-Hsin Hsu.
Paper

143


SEGUE: Quality of Service Aware Edge Cloud Service Migration
by: Wuyang Zhang, Yi Hu, Yanyong Zhang and Dipankar Raychaudhuri.
Paper

118


Virtual Machine Planning for Cloud Brokering Considering Geolocation and Data Transfer
by: Javier Alsina, Santiago Iturriaga, Sergio Nesmachnow, Andrei Tchernykh and Bernabe Dorronsoro.
Session 6C: Short Papers II
Room: Diekirch/Echternach, Chair: Xavier Besseron
Paper

239


Supporting Model-based Privacy Analysis by Exploiting Privacy Level Agreements
by: Amir Shayan Ahmadian and Jan Juerjens.
Paper

231


Towards Transparent Information on Individual Cloud Service Usage
by: Martin Henze, Daniel Kerpen, Jens Hiller, Michael Eggert, David Hellmanns, Erik Mühmer, Oussama Renuli, Henning Maier, Christian Stüble, Roger Häußling and Klaus Wehrle.
Paper

249


A Bayesian System for Cloud Performance Diagnosis and Prediction
by: Emanuel Palm, Karan Mitra, Saguna Saguna and Christer Ahlund.
Paper

233


Cloud4IoT: a heterogeneous, distributed and autonomic cloud platform for the IoT
by: Daniele Pizzolli, Giuseppe Cossu, Daniele Santoro, Luca Capra, Charalampos Doukas, Corentin Dupont, Francesco De Pellegrini, Fabio Antonelli and Silvio Cretti.
Thursday, December 15th, 2016 | 13:30 - 16:00pm
Session 7A: Security and Privacy
Room: Vianden/Wiltz, Chair: Peter Ryan
Paper

17


Estimating How Confidential Encrypted Searches are using Moving Average Bootstrap Method
by: Fujinoki Hiroshi and Alexander Towell.
Paper

160


AL-SAFE: A Secure Self-Adaptable Application-Level Firewall for IaaS Clouds
by: Anna Giannakou, Louis Rilling, Jean-Louis Pazat and Christine Morin.
Paper

187


A dynamic tree-based data structure for access privacy in the cloud
by: Sabrina De Capitani di Vimercati, Sara Foresti, Riccardo Moretti, Stefano Paraboschi, Gerardo Pelosi and Pierangela Samarati.
Paper

57


An architecture for practical confidentiality-strengthened face authentication embedding homomomorphic cryptography
by: Nabil Bouzerna, Renaud Sirdey, Stan Oana, Nguyen Thanh-Hai and Wolf Philippe.
Paper

123


On the Insecurity of a Method for Providing Secure and Private Fine-Grained Access to Outsourced Data
by: Alfredo Rial.
Session 7B: Cloud Services and Applications V
Room: Fischbach, Chair: Pascal Bouvry
Paper

193


Enabling Green Energy awareness in Interactive Cloud Application
by: Md Sabbir Hasan, Frederico Alvares de Oliveira and Thomas Ledoux.
Paper

64


Utility-Based Scheduling for Periodic Tasks with Multiple Parallelization Options
by: Dawei Li and Jie Wu.
Paper

136


Towards Knowledge-Based Assisted IaaS Selection
by: Kyriakos Kritikos, Kostas Magoutis and Dimitris Plexousakis.
Paper

129


Cloud resource allocation algorithms for elastic media collaboration flows
by: Rafael Xavier, Hendrik Moens, Jurgen Slowack, Wim Sandra, Steven Delputte, Bruno Volckaert and Filip De Turck.
Session 7C: PhD. Consortium
Room: Diekirch/Echternach, Chair: Lin Wang
Paper

252


Using contextual data for smart patent analysis
by: Alexander Ivanov and Zeljko Tekic.
Paper

251


Network Access Control Towards Fully-controlled Cloud Infrastructure
by: Takuya Yamada, Keichi Takahashi, Masaya Muraki, Susumu Date and Shinji Shimojo.
Paper

224


Assessing Performance of Internet of Things-based Mobile Crowdsensing Systems for Sensing as a Service Applications in Smart Cities
by: Andrea Capponi, Claudio Fiandrino, Christian Franck, Ulrich Sorger, Dzmitry Kliazovich and Pascal Bouvry.
Paper

254


A hybrid MCDM model for Cloud service selection and relative importance of Component services in Service-oriented Architecture
by: Khubaib Amjad Alam.
Paper

238


Toward Hyper Interconnected IoT World using SDN Overlay Network for NGN Seamless Mobility
by: Walaa Farouk.
Paper

232


A Software-Defined Security Strategy for Supporting Autonomic Security Enforcement in Distributed Cloud
by: Maxime Compastié, Rémi Badonnel, Olivier Festor, Ruan He and Mohamed Kassi-Lahlou.
Paper

242


An Approach for Smart Management of Big Data in the Fog Computing Context
by: Farhoud Hosseinpour, Juha Plosila and Hannu Tenhunen.