IEEE CloudCom 2016 Program - Tuesday Dec. 13th
The preliminary program for Tuesday, Dec. 13th, 2016, is proposed below.
Tuesday, Dec 13th, 2016 Program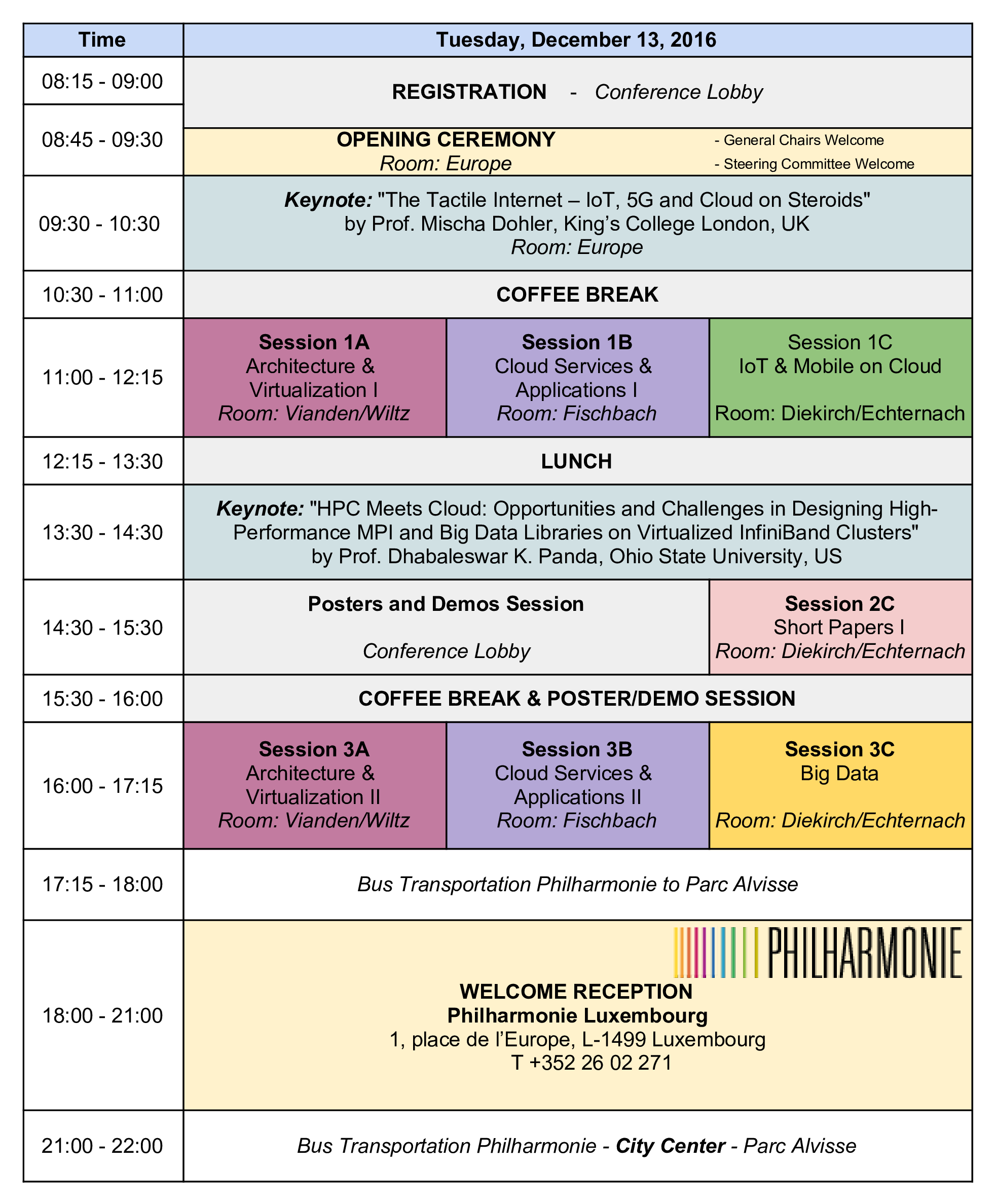 Tuesday is the first day of the main conference.
Tuesday, December 13th, 2016 | 11:00am - 12:15pm
Session 1A: Architecture and Virtualization I
Room: Vianden/Wiltz, Chair: Javid Taheri
Paper

188


Goodbye to Fixed Bandwidth Reservation: Job Scheduling with Elastic Bandwidth Reservation in Clouds
by: Haiying Shen, Lei Yu, Liuhua Chen and Zhuozhao Li.
Paper

96


Disaggregated FPGAs: Network Performance Comparison against Bare-Metal Servers, Virtual Machines and Linux Containers
by: Jagath Weerasinghe, Francois Abel, Christoph Hagleitner and Andreas Herkersdorf.
Paper

184


Failure-Resilient Routing for Server-Centric Data Center Networks with Random Topologies
by: Ye Yu and Chen Qian.
Session 1B: Cloud Services and Applications I
Room: Fischbach, Chair: Joanna Kolodziej
Paper

91


Service Performance Pattern Analysis and Prediction of Commercially Available Cloud Providers
by: Shyam S. Wagle, Mateusz Guzek and Pascal Bouvry.
Paper

100


CloudTax: A CloudSim-Extension for Simulating Tax Systems on Cloud Markets
by: Benedikt Pittl, Werner Mach and Erich Schikuta.
Paper

60


Towards a Cost-Optimized Cloud Application Placement Tool
by: Olivier Belli, Charles Loomis and Nabil Abdennadher.
Session 1C: IoT and Mobile on Cloud
Room: Diekirch/Echternach, Chair: Jiannong Cao
Paper

22


Nested Buddy System: A New Block Address Allocation Scheme for ISPs and IaaS Providers
by: Michael Crouse and H.T. Kung.
Paper

163


Towards Green Transportation: Fast Vehicle Velocity Optimization for Fuel Efficiency
by: Chenxi Qiu, Haiying Shen, Ankur Sarker, Vivekgautham Soundararaj, Mac Devine and Egan Ford.
Paper

15


Device-Level IoT with Virtual I/O Device Interconnection
by: Jun Suzuki, Akira Tsuji, Yuki Hayashi, Masaki Kan and Shinya Miyakawa. .
Tuesday, December 13th, 2016 | 14:30 - 15:30pm
Posters and Demos Session
Room: Conference Lobby, Chair: Xavier Besseron
Paper

245


A Demo of IoT Healthcare Application Provisioning in Hybrid Cloud/Fog Environment
by: Ons Bibani, Carla Mouradian, Sami Yangui, Roch Glitho, Walid Gaaloul, Nejib Ben Hadj-Alouane, Monique Morrow and Paul Polakos.
Paper

233


Cloud4IoT: a heterogeneous, distributed and autonomic cloud platform for the IoT
by: Daniele Pizzolli, Giuseppe Cossu, Daniele Santoro, Luca Capra, Charalampos Doukas, Corentin Dupont, Francesco De Pellegrini, Fabio Antonelli and Silvio Cretti.
Paper

241


TCRM: Telco Cloud Resource Management Using Real-time Data Analysis
by: Wei Zhou.
Paper

229


SEED: Enabling Serverless and Efficient Encrypted Deduplication for Cloud Storage
by: Youngjoo Shin, Dongyoung Koo, Joobeom Yun and Junbeom Hur.
Paper

236


NDN-based Pub/Sub System for Scalable IoT Cloud
by: Sungwon Han and Honguk Woo.
Paper

246


Performance Prediction of Memory Access Intensive Apps with Delay Insertion: A Vision
by: Soramichi Akiyama, Takahiro Hirofuchi and Hirotaka Ogawa.
Session 2C: Short Papers I
Room: Diekirch/Echternach, Chair: Alban Rousset
Paper

250


Variability management in Infrastructure as a Service
by: Ateeq Khan, Johannes Hintsch, Klaus Turowski and Gunter Saake.
Paper

52


Deadline-aware Energy Management in Data Centers
by: Cengis Hasan and Zygmunt J. Haas.
Paper

240


Using Virtual Desktop Infrastructure to Improve Power Efficiency in Grinfy System
by: Abdallah Ali Zainelabden Abdallah Ibrahim, Dzmitry Kliazovich, Pascal Bouvry and Ariel Oleksiak.
Paper

247


A Pub/Sub-Based Fog Computing Architecture for Internet-of-Vehicles
by: Sejin Chun, Sangjin Shin, Seungmin Seo, Sungkwang Eom, Jooik Jung and Kyong-Ho Lee.
Tuesday, December 13th, 2016 | 16:00 - 17:15pm
Session 3A: Architecture and Virtualization II
Room: Vianden/Wiltz, Chair: Roberto Canonico
Paper

170


Design and Analysis of Deadline and Budget Constrained Autoscaling (DBCA) Algorithm for 5G Mobile Networks
by: Tuan Phung-Duc, Yi Ren, Jyh-Cheng Chen and Zheng-Wei Yu.
Paper

157


Instance Type Selection in Proactive Horizontal Auto-Scaling
by: Fábio Morais, Raquel Lopes and Francisco Brasileiro.
Paper

211


Dependency-aware and Resource-efficient Scheduling for Heterogeneous Jobs in Clouds
by: Jinwei Liu and Haiying Shen.
Session 3B: Cloud Services and Applications II
Room: Fischbach, Chair: Sergio Nesmachnow
Paper

152


Algorithms for Optimising Heterogeneous Cloud Virtual Machine Clusters
by: Long Thai, Blesson Varghese and Adam Barker.
Paper

171


QWatch: Detecting and Locating QoE anomaly for VoD in the Cloud
by: Chen Wang, Hyong Kim and Ricardo Morla.
Paper

183


Semantic Aware Online Detection of Resource Anomalies on the Cloud
by: Arnamoy Bhattacharyya, Ali Jokar, Stelios Sotiriadis and Cristiana Amza.
Session 3C: Big Data
Room: Diekirch/Echternach, Chair: Martin Theobald
Paper

205


Re-designing CNTK Deep Learning Framework on Modern GPU Enabled Clusters
by: Dip Sankar Banerjee, Khaled Hamidouche and Dhabaleswar Panda.
Paper

203


Designing Virtualization-aware and Automatic Topology Detection Schemes for Accelerating Hadoop on SR-IOV-enabled Clouds
by: Shashank Gugnani, Xiaoyi Lu and Dhabaleswar Panda.
Paper

56


Exploring Controlled RDF Distribution
by: Raqueline R. M. Penteado, Rebeca Schroeder and Carmem Hara.